As a newcomer to the world of ecovillages, and a passionate member of GEN Australia, I'm noticing many changes and great opportunities unfolding. Let me share those with you.
While living in Prague and teaching English for four years, I'd focused on environmental lessons and I thought that Australia was quite environmentally progressive. On returning to Australia in early 2019, I wanted to explore ecovillages and ecologically sound lifestyles… friends pointed me to Narara. Due to an imminent hip replacement, fulfilling my dream of going to Findhorn Foundation (the renowned ecovillage in Scotland) wasn't happening soon I felt it best to look at Plan B – Australia!
Narara Ecovillage Open Day in May 2019 was sticky and hot. Loads of welcoming people and the foundations of great buildings underway, yet, being a sailor, I noted no ocean breeze. Although I was satisfied to realise this part of my dream, I wasn't feeling great physically nor did I like the sweat. Could I consider living "so far" from the sea without a cooling Nor-East summer breeze? Yes, yes, first world issues!
         Why was I here? I was becoming increasingly agitated about what we humans were doing to our planet and wanted to find out how I could contribute to regeneration by reinventing and transforming my skills – and joining. The Impact Assessment Survey of Ecovillages by GEN had prompted me to learn more. I resonated with the presentation by Narara's founder Lyndall Paris and that their vision was to be a 'demonstration ecovillage'. I was also very excited to discover a Training of Trainers experiential training program was being run the next month and registered. What a treat I was in for!
Just a month after the first Open Day at Narara, I was grateful to observe the village in another season. It seems I was starting to use Permaculture Principle #1 – Observe and Interact! Sailors do that instinctively!
    So began a remarkable five day immersive program… and the beginning of my own transformation; reconnecting with my country of birth and the growing recognition of the knowledge and custodianship of First Nations people to the land. No matter our backgrounds, participants were able to relate to the dimensions of sustainability – ecology, economy, social and cultural.
We explored many ways to have meaningful conversations utilising the GEN Ecovillage Design Cards and what they meant to us in our own bioregions. Most importantly, we looked at solutions and ways to partner with other organisations.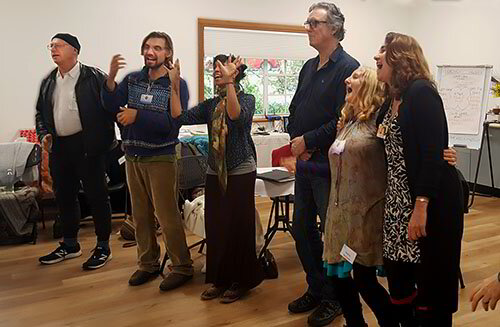 I enjoyed watching Kosha Joubert, former GEN CEO, (far right in photo) Trudy Juriansz, (3rd from left) Networking Director GEN & GENOA, and Shane Sylvanspring (2nd from left), GEN Australia, all experienced in the facilitation of ecovillage design education programs. All the participants had something rich to contribute. Seasoned permaculture teachers Morag Gamble and Paula Paananen shared about their work in developing countries and what environmental degradation these colonised countries were facing as a result of industrialisation.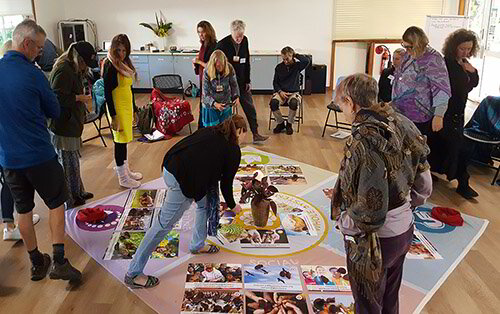 The Narara Ecovillagers were all so welcoming, helping to create a participatory learning and community space. From the training and diverse experiences in the room, I started to realise that actually Australia wasn't so environmentally progressive after all – despite our enormous resources readily available!
Wendy Armstrong, a participant from Tasmania, spoke about GEN Australia being a national network, part of the region of GENOA and part of the growing Global Ecovillage Network… sharing that GEN's purpose is to catalyze communities for a regenerative world through initiatives that bridge cultures, countries, and continents. I liked this!  So, I then dived into the Network meetings from the next month to find out more and expand my learning from the week.
My attendance of the Narara workshop entitled me to apply as an "Ambassador"… AND I had a vision! These fabulous design cards and the experiential processes would be excellent resources for training in sustainability and regeneration in schools, businesses and communities. The time to take action was ripe!
Then, in 2019 and beyond, those horrific bushfires, flooding, unbroken drought in some rural areas, and from March 2020 the COVID-19 pandemic has been shocking to say the least. The call to take action was echoing louder!
I liked that GEN Australia was made up of passionate and experienced, as well as novice, ecovillagers who draw upon the resources of the wider GEN network, permaculture principles and the alliance with GAIA Education.
I was learning about how the organisation was growing from people who had connected with GEN in Findhorn and were expanding the network here in Australia since 2011. They had gathered in 2016 at the Tasman Ecovillage.
The founding team were – Wendy Armstrong from Tasman Ecovillage, Andrew Olivier, a GEN Board member based at Narara, Shane Sylvanspring from Balaya Buyul Community, Sue Gilbey from Christie Walk – also supported by John Talbott who has acted as advisor and mentor with his 25 years experience at the Findhorn Foundation. From that early strategic meeting, GEN Australia was registered and a constitution formed.
I started to learn of the early elders – Max Lindigger, co-designer of Crystal Waters, QLD, Australia, who actually set up GENOA, and Helena Norbert Hodge who spent time in Ladakh and saw how western "development" destroyed principles that had functioned perfectly for centuries in economy, building, farming and social and cultural interactions too. I'd seen her too in 2040, Damon Gameau's popular documentary about localisation.
Of course, others participated in community building and carrying forward the vision of GEN and strengthening the links with GENOA. Peter Gringinger also instigated GEN Australia's involvement at events such as Melbourne's Sustainability Festival in 2017, Chris Gibbings was a vision Councillor for GENOA. >>> https://www.genaustralia.org.au/home/bios/
        Global Ecovillage Network in Oceania and Asia (GENOA) is a regional body which promotes ecovillage living throughout the region where people live together in a sustainable way, with dignity, and in harmony with each other and with nature. Since 2011, representatives of GEN Australia have been working with and attending GENOA gatherings.
The last regional event was in 2018 at Wongsanit Ashram in Thailand. This gathering held space for 75 people from 14 countries. The next GENOA regional event was due to be in 2020 in Auroville, India however that has turned into an online event.